This post brought to you by Jamba Juice. The content and opinions expressed below are that of College Gloss.
Living in Washington, DC, I'm always on the go and trying to get from one place to another. Being able to grab a healthy juice to go is a huge bonus. Over the weekend, I was at Union Station to pick something up and went into the Jamba Juice there to grab a drink. The citrus kick immediately caught my eye: it's a blend of blend of oranges, apples, pineapples, and ginger. I actually haven't had anything from Jamba Juice besides their smoothies, but I'm always down for some on-the-go fresh juice.
It was
really good.
You could taste all the fruits, and it was quite the delicious combination. I also loved the small kick at the end that the ginger gave. And I'm not usually a huge health nut, but these juices definitely get a bonus point because they are not only delicious, but also healthy, paleo and fresh pressed. There are no preservatives and are 100% juice!
I have to admit, I haven't yet jumped on the cold pressed juice bandwagon, but this juice might be making me change my mind.
The Jamba Juice I went to just had the first four flavors listed below, but apparently there are more healthy and delicious juices coming our way.
Tropical Greens:

For a truly tropical flavor, we've combined apples, pineapples, Supergreens, and Chia seeds. This is one island that will never be deserted.

Citrus Kick:

When you really want to bring up the brightness in your day, try this blend of oranges, apples, pineapples, and ginger. Just don't forget your sunglasses.
Veggie Harvest:

Take some apples. Then take some carrots, and beets, and super greens and ginger. Then take a minute to drink it all down and wonder how you ever got through your day without it.

Orange Reviver:

When your day feels like 5 days, revive with an Orange Reviver. We've taken oranges, apples, bananas, beets and Chia seeds and turned them into a spirit-lifting, taste bud-hugging masterpiece of mixology.

Garden Medley:

Is there such a thing as too many servings of vegetables? Not when they make up a melodious medley like this. Try one and enjoy delicious, perfectly portioned vegetables and a splash of apple, all living together in perfect harmony. Just like Mother Nature intended.

Orange Carrot Twist:

The fresh, tangy brightness of the orange meets the smooth, earthy sweetness of the carrot. Some things were just meant to be.

Orange Berry Antioxidant:

For juice lovers that know the more, the merrier, we've squeezed this orange and double berry masterpiece. It's The Works of Juices.

Kale Orange Power:

Green means go-go-go with this delicious blend of fresh orange juice, kale and bananas. And as good source of vitamins and manganese, it's hard to stop sipping. Get ready for the perfect fuel to power through your day.

Triple Revitalizer:

Do bananas have juice? Yep. But don't take our word for it, just ask the oranges and carrots in this awesome blend of potassium-loaded goodness.

Tropical Kick-Start:

We took the American breakfast staple on a trip to the tropics. The result? A juice blend that will take your taste buds on vacation.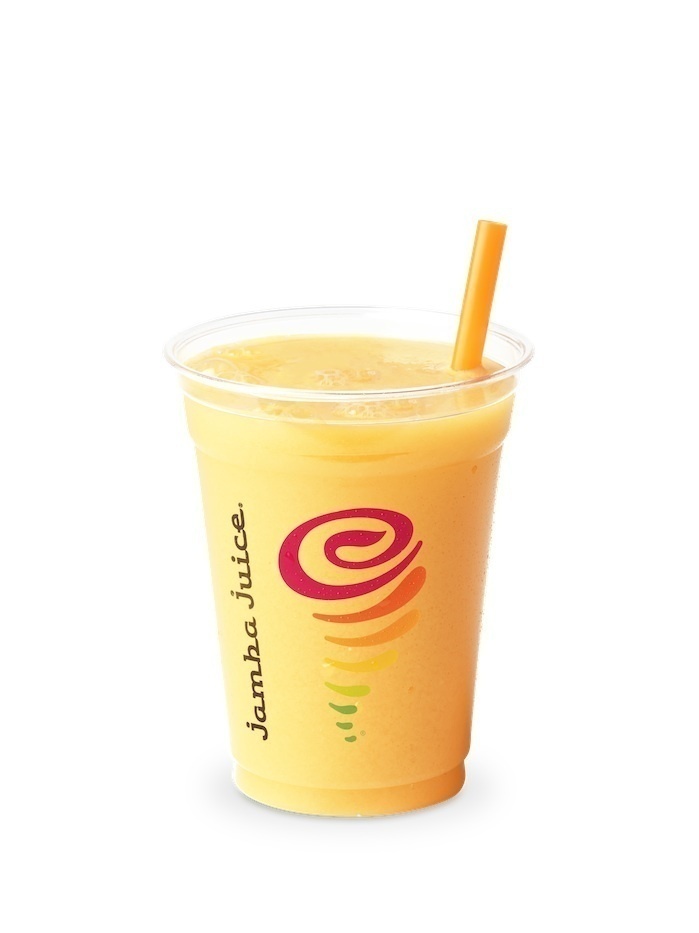 Luckily for you, College Gloss is teaming up with
Jamba Juice
to give one reader a
gift card to any Jamba Juice store
. All you have to do is
comment with what Fresh Juice flavor you would want to try
for a chance to win your own
Fresh Squeezed Juices
.